The Ryder Cup c'est magnifique!
August 19, 2018 7:20 am
World of Golf London Master Professional, Jon Woodroffe says this year's Ryder Cup is a mouth watering prospect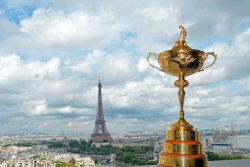 The greatest show in golf is coming to France at the end of September. It will have some way to go to live up to other major sporting events that have occurred this year, nevertheless, I do think that these three days of golfing combat could produce excitement on par with the recent football Word Cup.
Every two years United States and Europe do battle for the Ryder Cup. This year, the action takes place in Saint-Quentin-en-Yvelines, Paris, where the two 12-man teams will compete over three days. The US team on paper are stronger; they have players that are ranked higher in the order of merits and they have won more majors. On any measure of skill and brilliance, the US team are favourites. But the European team have been here many times before and their superior team spirit has taken them over the line in the past. Is that going to be enough this time?
The US team are now more aware of the need to play as a team rather than a bunch of highly talented individuals, and they work very hard on that. But the Europeans also looks strong. This year we have more major winners than we have ever fielded before and some players, like Tommy Fleetwood, are knocking on the door of major success.
Plus, as if this tournament needed any more sub plots, the resurgent Tiger Woods has surely made a big enough claim for one of the 4 wild cards for Team USA. What a mouth-watering prospect that is.
So, who is going to shine? For Europe, Tommy Fleetwood is the one I think that will gain the most points. I am hoping he will get paired with Ian Poulter and if that does happen, we are sure to witness some great matches, whoever they come up against. Of the players that have made the team for USA, I am most worried about Patrick Reed and Ricky Fowler, for different reasons. Patrick Reed is their Ian Poulter, a guy who plays above his normal game when the match play adrenaline starts pumping. Ricky is more the silent, smiling assassin. Lovely guy, but a fierce competitor.
So to the result. I fancy the golfing equivalent of a penalty shoot out. It will go to the last game on the final day and my money is on Europe nicking it at the death. Ian Poulter to edge out Tiger on the last… joie de vivre!
Categorised in: Competitions, World of Golf London