Putters
October 1, 2013 7:30 pm
By Brian Lee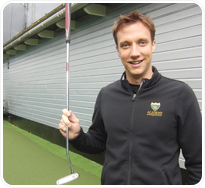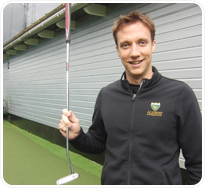 Drive for show and putt for dough they say and for us professionals that is quite true, and I must say that my putting is an ok part of my game, certainly not my main strength, but also not an area I am unduly worried about. When I was playing a lot of tournament golf my putting was better, but nowadays I do not get so much time to practice, much like most of my customers, hence I am not as sharp as I was.
I previously was sponsored by Cleveland and used one of their putters, a 32 inch but now I have moved to the standard 35 inch Odyssey White Hot Xg Rossie putter. I feel more comfortable over the ball with the longer putter now and I like the larger target lines of the head, I find it easier to line the face up to target and it sits lovely and flat so that my eyes are directly over the ball.
I guess I average about 29 to 30 putts a round, not up to the PGA Tour standard of 26 to 27 putts, but still quite acceptable for the amount of time I get to play and practice.
To my lesson customers I would say when looking for a putter, obviously try them out, try plenty of them out, this club will get used more than any other in your bag and using it well will reduce your handicap quicker than any other adjustment you could make so take your time and be sure. You want it to look good, it needs to sit flat and be easy to align to the target so you can concentrate on your putting stroke and the line of the putt you are about to hit, not be fiddling around to get comfortable over the ball, and be sure that the length of the putter allows you to have your arms hanging at address and your eyes over the ball, other than that, the choice is down to you.
Categorised in: Tip of the month