Driving range visitors you may recognise
September 16, 2016 6:29 am
By Jon Woodroffe
Machine Gun Mike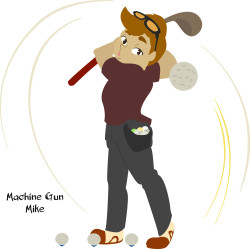 As the main season begins to wind down, we thought we'd have a little bit of fun by introducing you to some of the characters, men and women, we (and maybe you too?) see at World of Golf London from time to time. It's all tongue in cheek and any likeness to actual persons is entirely accidental and will be strenuously denied!
We have ten of our favourite friends to introduce you to over the next couple of months and first up is Machine Gun Mike.
Due to learning golf at an Asian driving range, where time rather than a quantity of balls is paid for, Machine Gun Mike likes to empty buckets in as small a space of time as possible. Who needs a gym when you can work out at the driving range pumping golf balls like an AK-47? This guy will certainly break sweat, but not very likely par.
Categorised in: Golf News