Waterproof Clothing
November 1, 2013 7:27 pm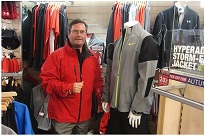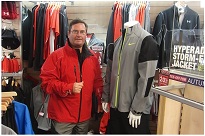 By Jon Woodroffe
Autumn is now in full swing and as they say, "There is no such thing as bad weather, just insufficient clothing", so with that in mind, let's have a look at the waterproofs you can get these days. There is a huge choice on the market, but I have chosen to highlight just a couple of them for you. Many would say the best brands are Galvin Green and the recently released Nike Hyperadapt Storm Fit.
The Galvin Green suits are made from Gore-Tex fabric which is a membrane that has pores in it that are 700 times larger than a body sweat molecule, but 20,000 times smaller than a water droplet. Thus, the material allows you to stay cool, not get sweaty and yet is completely waterproof; so much so that they come with a lifetime guarantee. The material is also windproof and as the Galvin Green suits are made of 3 ply Gore-Tex they are very durable and resistant to abrasion, again meaning that they will last a lifetime of use on the golf course.
The new Nike Hyperadapt Storm fit jacket is a new addition to the waterproof market and they have consulted their tour players in the design of this garment to a very great degree. This has produced waterproofs that not only do what they say on the tin with regard to keeping water out, but they have a sweater like feel due to the flexibility of the 4 panels that are woven together to make the jacket. This stretchy feel to the fabric means that you can swing the golf club with the same unhindered motion as you would do if you were wearing a sweater; often waterproofs tend to feel like a straight jacket, restricting your movement.
So with jackets costing upwards of £300 and suits being nearly £500, waterproofs are not cheap these days, but you do truly get what you pay for with the lifetime guarantees that the manufacturers give due to the confidence in their products, this must be seen as an investment. Our winters (and some would say summers as well) are tending to get warmer and wetter, so if you plan to be an all year round golfer, then it is time to bite the bullet and get a set of waterproofs that will truly keep you cool and dry on the golf course, no matter what conditions are thrown at you.
Categorised in: Tip of the month