Grip pressure: it's all about the Waggle
March 29, 2016 11:56 am
By Jon Woodroffe
One of the problems that we see at the range more often than anything is the strangulation that most amateurs inflict on the poor rubber end of the golf club. Grip pressure is a tough one to get right because if you are hitting the ball brilliantly and your confidence is sky high, then gripping the golf club with the same pressure as you would grip a tube of toothpaste with the top off is easy. But as that happens so rarely to most of us, the fear of the impending disastrous shot is more likely to get the blood pressure let alone the grip pressure going through the roof.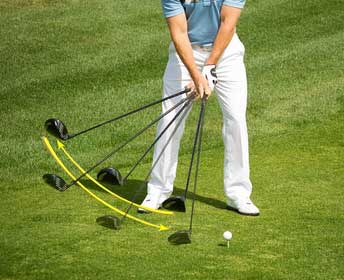 The recommendation is to develop a waggle before you swing the club. All top players have this. It is a lifting of the golf club up and moving it gently back and forth in the air above the golf ball. It is the equivalent of what you see tennis players do before they serve, bouncing the ball. Batsmen in cricket will tap the bottom of the bat in the crease and lift it several times as the bowler is running in and Usain Bolt will flail and flap his limbs before settling into the blocks. In all cases it has the same effect, it relaxes the muscles prior to the rapid physical activity they are about to engage in.
Try to develop your own waggle, it will help you relax but one word of warning, try not to take too long over it or else the golfers playing behind you will have their blood pressure going through the roof waiting for you.
Categorised in: Tip of the month