Seniors Championship Clandon Golf
March 1, 2015 10:37 am
The first World of Golf Seniors Championship of the year took place at Clandon Golf near Guildford in Surrey on Wednesday 25th February and after all the cold weather we had suffered through the month of February, wasn't it just the luck of these guys that they played on the warmest day of the year so far, part of the time they were in short sleeve order out there.
Clandon was a new venue to most of the guys and it proved a huge success. They have developed the golf course slowly, initially opening 9 holes and the adding the other 9 to make an interesting and challenging golf course. As yet they have not built a clubhouse, which as far as the guys were concerned was no problem at all, we went there to play golf not sup coffee in the lounge, and anyway, if you need it, there is a 20% discount off in the local pub if you show your receipt from the golf course.
The first hole is a wide open driving hole which all were grateful for although the length of it made for a tough par 4 and very few points were forthcoming. The holes continued to be fairly generous fairways but with some large elevation changes it was not only taxing mentally to play but also physically. Then you get to the Quarry holes and these really did sort the men out from the boys. Large drops away from the edge of the fairways into chasms and there were plenty of golf ball causalities, and in fact the winners were the guys that negotiated these difficult holes the best.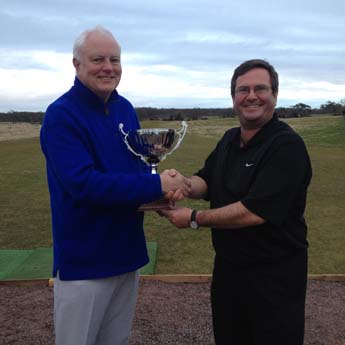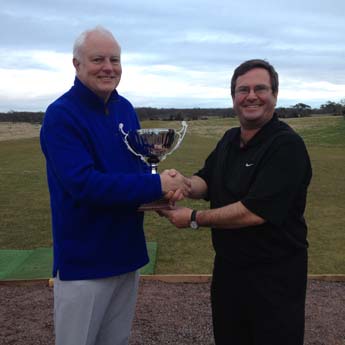 The winner was Brian Crowe, a new addition to the group who Jon Woodroffe had taught back in the early 80's at The Oaks in Carshalton and Brian is getting back into playing a bit and off the generous 28 handicap he was given, he stole in with a very creditable 35 points. Second was the ever steady Jon Friend. He only failed to score on one hole and was home with 32 points.
The longest drive and nearest the pin prizes were both scooped up by Mike Nation, much though we were tempted to kick Alan Livermore's excellent tee shot at the 13th a touch closer, but this is an honourable game, but maybe next time…..
So another new golfing venue tried and I would thoroughly recommend Clandon Golf to you, particularly through the winter as it drains magnificently and thus was a pleasure to play rather than dragging through the mud that often affects courses at this time of the year.
Categorised in: Golf Events