Christmas Gift Vouchers on sale now
November 10, 2016 11:02 am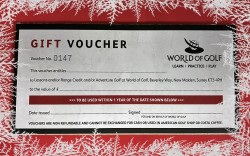 Stuck for ideas for the golfing enthusiast in your life? Plenty of v neck sweaters in the drawers already?
World of Golf Christmas Gift Vouchers are available to buy from reception. The Vouchers can be created for any value to suit you and can be redeemed on the range, for lessons and family fun on our Jurassic Encounter adventure golf course.
Plus, it's a great excuse to get them out the house on Boxing Day!
Categorised in: Golf News, Jurassic Encounter, Offers, World of Golf London